The best Places to Visit in California
1. The San Francisco Bay Area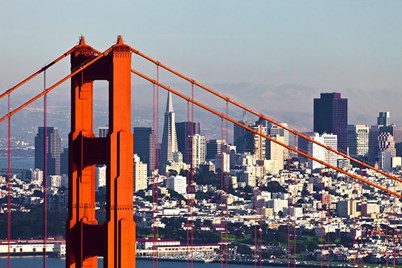 Golden Gate Bridge and the San Francisco skyline
When the afternoon sun shines on the hillsides or the fog rolls in from the Pacific Ocean over the Golden Gate Bridge, this eclectic city has a mystical beauty. Visitors are awed by San Francisco's picture-perfect scenery, from the curves of Lombard Street to the elegant Victorian houses. The city also delights tourists with its walkable (albeit steep) streets, thrilling cable car rides, marvelous bay views, and historic neighborhoods: Chinatown, a bustling area of shops and authentic Chinese restaurants; North Beach (Little Italy); and Fisherman's Wharf, San Francisco's most touristy area.
Today, San Francisco is California's most sophisticated city, a place to enjoy world-class opera and ballet, a wide range of theater performances, and gourmet dining. The city has an impressive assortment of top-rated restaurants offering local, as well as global cuisine and trendsetting menus. The hip and edgy Mission district is the place to try up-and-coming restaurants or sample ethnic cuisine, relax in a coffee shop, and browse unique shops. The stylish Hayes Valley neighborhood is renowned for its restaurants, as well as fancy retail boutiques.
Across the San Francisco Bay (just a 30-minute Bart train ride away) are the university town of Berkeley, with its high-caliber cultural attractions and acclaimed gourmet restaurants, and the multicultural city of Oakland with many interesting museums, historic theaters, lively neighborhood events, and summer festivals.
Nature lovers can drive 30 miles south of San Francisco (via the scenic Highway One) to Half Moon Bay. Tucked away behind rolling hills, this oceanfront town fronts a stretch of wild, rugged Pacific coastline. It's a great place for walking along the beach, hiking, golfing, fishing and bird-watching, or to enjoy a seafood meal by the harbor. About 17 miles farther south is Pescadero, a rural community with many small farms, a bird sanctuary at the Pescadero Marsh Natural Preserve, and a goat dairy (Harley Farms) that hosts candlelit dinners in a restored Victorian hayloft.
2. Los Angeles, Santa Monica, and Pasadena
Santa Monica Beach
Los Angeles epitomizes the seductive image of sunny Southern California with its wide, palm-fringed boulevards; exclusive designer boutiques; and see-and-be-seen beaches. This sprawling urban center was founded in 1781 and built up during the film industry boom of the 1920s and 30s. The city is still synonymous with the glamour of Hollywood, the famous neighborhood that is full of iconic sights and tinged with Tinseltown glitz. Hollywood is also a go-to spot for people-watching and celebrity sightings.
Those intrigued by the idea of spotting Hollywood stars should head to their stomping grounds on Rodeo Drive, lined with haute couture boutiques; the exclusive Beverly Hills and Bel Air neighborhoods; the Chateau Marmont hotel on Sunset Boulevard; and Franklin Village in Hollywood. An absolute must-see attraction in Hollywood is the Walk of Fame on Hollywood Boulevard and Vine Street, lined with star plaques honoring prominent movie directors, actors, and musicians.
Favorite beaches are the eclectic Venice Beach, a fun-loving scene of rollerbladers, cyclists, joggers, and street performers, and the 3.5-mile Santa Monica State Beach (15 miles from Los Angeles, accessible by the Expo Metro line), which has an iconic pier with a Ferric wheel and a beachfront path for walking and cycling. The chic seaside city of Santa Monica is brimming with unique locally owned stores and upscale boutiques, as well as trendy restaurants. Many of Santa Monica's restaurants near the pier and on Ocean Avenue offer fantastic beach views.
For culture, the J. Paul Getty Museum, the Walt Disney Concert Hall (classical music performances), and the Hollywood Bowl (pop music concerts) are top attractions. Near the pleasant small town of Pasadena (11 miles from Los Angeles) is the Huntington Botanical Gardens, filled with 16 different themed gardens, including a Desert Garden, an authentic Japanese Garden, and a Shakespeare Garden featuring plants cultivated in Renaissance England. This exceptional site includes the Huntington Library that boasts a collection of rare books, including a manuscript of Chaucer's Canterbury Tales and a 13th-century copy of the Magna Carta.
3. San Diego: Sunshine, Beaches, and Spanish Architecture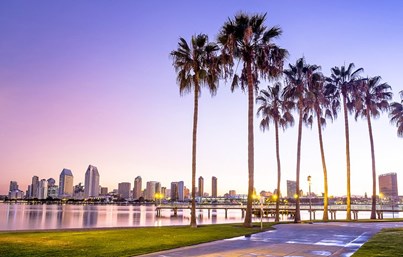 View of downtown San Diego from Coronado Island
With its balmy year-round climate, San Diego is the place to experience California's laid-back lifestyle of sun-drenched days at the beach and fun-loving outdoor adventures. Besides the expansive shoreline of beautiful sandy beaches, the main tourist attractions in San Diego proper are Balboa Park, a lovely green space with distinctive gardens and several museums; the historic Gaslamp Quarter, which is full of boutiques, art galleries, and good restaurants; and the Old Town San Diego State Historic Park, where museums, retail shops, and restaurants occupy the old adobe buildings.
Families with young children will enjoy the city's kid-friendly attractions, as well as the family-friendly resorts that are perfectly designed for a relaxing vacation. The top things to do in San Diego with kids include visiting San Diego Zoo, home to panda bears and other exotic animals; watching the dolphin and whale shows at SeaWorld theme park; exploring the playgrounds at Balboa Park; admiring colorful sea life at Birch Aquarium in La Jolla; and spending time at the New Children's Museum.
As the oldest city in California, San Diego has the original Spanish mission. Founded in 1769, the Mission Basilica San Diego de Alcalá was the birthplace of Christianity in California. Registered as a National Historic Landmark, the mission buildings were crafted from adobe in a quadrangle formation with a striking white-painted facade. Distinguishing features are the campanario (bell wall) on the left side of the Mission Church and the meditation garden blooming with flowers. Tours are offered Monday through Friday, and Mass is celebrated daily at the Mission Church.
Several nearby destinations are good day trips from San Diego. For sunbathing and shopping, La Jolla (14 miles north of San Diego's downtown) is prized for its sandy beaches, as well as its quaint downtown full of gourmet restaurants, art museums, performing arts, and antiques shops. Another worthwhile excursion from San Diego is the Mission San Juan Capistrano, in a tranquil setting 66 miles north. For the taste of a different culture, travelers can visit Tijuana in Mexico, just 20 miles south of San Diego.
Slightly farther away (within two hours of San Diego) are many wonderful weekend getaway destinations such as the dreamy Catalina Island and the mountain resort of Idyllwild.
 Noi Bai hotel thanks  for listening.!